Reid on the Radio | @reidontheradio
Homeless Man "Wins" Lottery!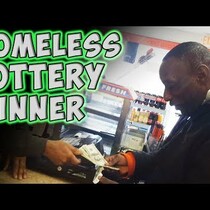 Posted March 5th, 2014 @ 6:31pm
THIS.IS.AWESOME!
I'm sure you've seen at least one video by a YouTube prankster/magician named MagicOfRahat. In this video, he decides to "prank" a homeless man in the BEST POSSIBLE WAY! Click PLAY, and grab the tissues!
BTW- Our friends at BuzzFeed talked to Rahat who said in addition to the cash from the lottery ticket, he gave the homeless guy 2 weeks in a hotel, a bike, clothes, and a warm meal. MAD PROPS TO RAHAT!